There is no denying that Mathematics is one of those subjects that do not have many fans. Something about numbers just makes it uncomfortable and difficult.
How about we tell you that you can actually conquer this mammoth task by following some tricks?
Follow through and learn how you can get better at math and surprise everyone in your next math class.
How to Get Better at Math?
Math is complex, and this is why most of the students hate it. However, no matter how hateful it is, you cannot escape it. No matter if you are in a high school or any other level, you have to face it in one way or another.
Mathematic problems like algebra, pre-algebra, differential equations, etc. are enough to give any weak-hearted student heartache.
Therefore, the best way of handling it is to focus on how to get better at it instead of avoiding the subject.
The main reason that most of the students find it so daunting and difficult is that they do not have clear concepts and do not know how to study math correctly.
However, don't worry; we will tell you how to get better with numbers in a few easy steps.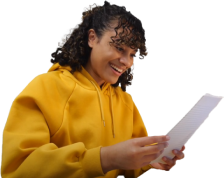 Paper Due? Why Suffer? That's our Job
Proven Strategies for Solving Math Problems
Getting better at maths requires a complete plan, and this planning is even important if you are always struggling with maths. Unfortunately, since it is a very technical subject, this is somewhat difficult to understand.
Below, we have step by step explain some proven strategies for solving math problems with steps to help you master maths and get better at it quickly and easily:
1. Understand the Math Problem
It is said that understanding the problem is like solving half of it. What do you do when you see a math problem? Get frustrated? Getting tense and frustrated will not help you. Instead, pay close attention to the problem at hand.
Some of the easy ways to understand the problem are paraphrasing them as per your understanding, reading it a couple of times, and trying to understand what the question is about.
2. Make the Work Plan
Make a plan before you commence your maths homework. It depends on the student and how he likes to work, but a proper plan will help most students with their math assignments in high school or college-level courses.
By doing this, the student does not have to deal with the entire problem at once and they could devise a plan to solve the problem.
3. Work on the Plan
After completing the planning phase, it is time to work on the plan. Make points and follow them closely to stay in line with the plan.
4. Revise the Work
Once you are done with the solution, revise it. Study it to see if you could make it better in any way. Revise the outline and points you have made in the previous steps and see that you have followed them properly.
Tips and Tricks to Get Better at Maths
Besides strategies, some helpful tips and tricks will help you work on your math skills and get better. Below we will be discussing seven tips and tricks, which will help you get better at math and improve your skills.
1. Practice Solving Math Problems
You can read as many definitions as you want, but there is no way to get better without practice. Practice will make you perfect. Math problems may seem difficult at first, but with practice, they will get easier.
Practice each problem several times and until you start doing it naturally. Understand the structure and system for each group of problems.
2. Review and Revise all Errors
It is alright to make mistakes. However, the best thing to do in such a situation is to accept it and rectify it.
Acceptance will help you understand where you were wrong and what can be done to avoid the same mistake again.
This especially happens when one solves hard math problems. So, it is safe to say that you need to be patient with math; even the greatest mathematicians make errors.
Revising your work, in general, is a good thing because we are all humans at the end of the day, and errors are inevitable.
3. The Concept is the Key
Another important thing that students don't understand is that math is not something to be memorized. Math problems and the logic behind them need to be understood, not memorized.
When you have a better understanding of math problems, it will be rewarding in the long run. So always keep this tip in your mind to help you solve similar problems in the future.
Another thing to consider is that math is a subject that requires sequence, so understanding and learning math concepts are key.
4. Do Not Give Up
Many students just give up because the problems seem too complex. They move on to the next problem when they feel like it is impossible or not worth spending time doing it right now. This can be effective in exams where there's less time available. But practicing solves these issues instead of skipping them.
5. Distraction-Free Environment
The environment you study in can make a difference when it comes to understanding math.
The lesser the distractions, the easier it will be for you to understand the concepts clearly.
Having said that, light music in the background can actually aid in doing math. As we said, it is not necessary that math has to be boring.
6. Make a Math Dictionary
There is one thing that you all need to focus on, the core mathematical terminologies. That means that the subject has a whole vocabulary of its own.
To catch up, make a math dictionary so you can refer to it whenever there is a similar problem. Make flashcards and notes of all the terminologies, concepts, and definitions that are essential for better understanding.
The best way to prepare flashcards and notes is to make bullets easier to understand and manage. Make sure they are easy to understand and recall the previous solutions.
7. Using Math to Solve Real-World Problems
Lastly, math is not restricted to textbooks only; you can apply it practically to real-world problems.
Math is one of those subjects, which can be quite abstract, so there are chances that practical application will help you understand it even better.
For instance, probability can be used in everyday life in order to predict a certain outcome of an event that is happening or is about to happen. This will help you understand if you should go for a lottery ticket or not.
So when you say how to get better at math, we say your best bet is to apply those problems practically in real-life scenarios to make the concepts clearer.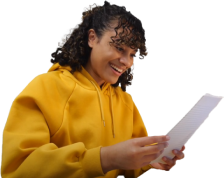 Tough Essay Due? Hire Tough Writers!
Strategies for Solving Math Word Problems
Besides understanding and solving numerical math problems, these problems also come in word form. However, understanding these word math problems is difficult, so they are lost somewhere in the middle when working on their sums.
To help them, we have mentioned some strategies that will help you simplify word math problems and solve them easily.
Before solving the problem, read the word problem properly and keep your pace slow.
Break down the question and write the numbers that they have mentioned in words
Try to make it visual by using different shapes like rectangles, circles, and squares and adding numbers and labels. Add the details that they have added to the questions.
Make a rough estimate of the answer and work to know if it will be correct or not. Starting with a rough idea is better than starting from scratch.
Practice these problems to perfect your skill.
Word math problems are a bit tricky to understand, and this is why you need to be careful when working on them.
Running away from math is not the right solution. Instead of looking at mathematics as something next to impossible, look at it like any other subject and try your hardest.
The best way to handle your math work is by consulting an online essay writing service like MyPerfectWords.com that will help you with any problems and get back on track!
So hire a paper writer now to help you out!