Getting admission to the desired college can be possible if a student is able to write a perfect college essay. Moreover, the selection committees also consider the GPA, letters of recommendation, and a personal statement. However, a good statement counts more than the other two criteria.
Writing a compelling statement is an excellent way to highlight your skills and expertise. Moreover, it will also give you a competitive advantage over other applicants.
Thus, it is essential for every student to understand the writing process of a personal statement. Dividing the task into manageable steps can help you write a strong statement for a job or college placement.
Read this detailed guide to learn all the steps of writing a perfect personal statement.
What is a Personal Statement?
A personal statement is a kind of academic writing task that is written to give a hint of an applicant's life experiences. It details the skills, accomplishments, goals, and interests of a student in a job or college application.
Following is the main purpose of writing a personal essay:
It provides an overview of the student to a graduate school, where they are applying for higher education.
It is your only chance to get your foot into your desired institution.
It informs the college admission committee about your priorities.
Authorities get an idea of the student's personality and writing capabilities.
It discusses the reasons why the student chose a particular course and how it will be a good fit for them.
It showcases your strengths and weaknesses.
Apart from this, college or university statements are usually more detailed. It consists of three to four paragraphs. However, the statements that are written for jobs or CVs generally have a single paragraph.
Each college has its own requirements for writing a statement. Thus, make sure to follow the proper instructions and word count.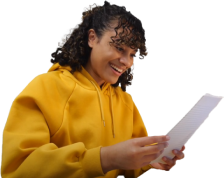 Paper Due? Why Suffer? That's our Job
Personal Statement Questions
"What do I write in a personal statement?"
Here are the specific questions that you need to address for writing a convincing statement.
Who am I?
Who do I want to be?
Why do I want to pursue higher education?
Why am I interested in a specific course program and college?
What type of contributions do I want to make and how?
What ideas do I have for future research?
What are my career goals and how does this education help to achieve them?
Personal Statement Outline
Here is an outline that you should follow while writing your personal statement.
Introduction
The motivation for the course choice
Interests and achievements
Thesis Statement
Body Paragraphs
Paragraph 1
Educational or employment background and experience
Paragraph 2
Discuss who you are now and why?
Describe your qualities and determination to succeed.
Paragraph 3
Career goals
Expected future contributions
Explain how this degree will help in accomplishing your academic objectives.
Conclusion
Restate motivation
Summarize past accomplishments, the present sense of identity, and future goals.
A convincing last sentence to impress the reader.
Have a look at the given outline template to understand better.
Sample Personal Statement Template

Personal Statement Format
Here are the guidelines for a standard personal statement format that you can follow.
Many students ask, "how long should a personal statement be?". It should be limited to 500 words which are approximately 1-2 pages.
Paragraphs must be single-spaced.
It should contain an extra line to separate one paragraph from the other.
Font style must be Times New Roman.
The font size must be 12pt.
It should include a page number and a header with your name.
How to Write a Personal Statement?
Below are the steps that you should follow, to write a personal statement:
1. Writing a Personal Introduction
The first step is to write a strong introduction that reflects you and your personality. It should discuss your interest in the course program or job. Moreover, also share any relevant skills or experience you have related to the course topics.
The best way is to start writing a personal statement with enough information to show who you are. You can also find a unique angle or hook to grab the reader's attention. Similarly, it is better to keep your audience in mind to convey your message in a personal tone.
For writing a statement for a college application, discuss how the degree matches your passion. You can also include general elements about the high school that attract you the most. (For example, location, sports, etc.)
However, for a job application, state what interests you the most in the job role. It must be followed by strong sentences that mention the relevant aspects of your personality in the company.
2. Drafting the Main Body
The main body of your statement must mention your skills, interests, and experiences. They should be related to the job or course program for which you are applying.
Moreover, try to be specific and use professional language to write the main body. Avoid mentioning any controversial subjects such as religious or political issues.
Below are the elements that you should include in the body paragraphs of the statement.
Your Accomplishments and Experience – Write about the degrees, awards, certificates, and experience you have related to the course or job role.
Relevant Skills – Discuss the skills and talents that you have learned through your academic path. Also, mention any specific attributes or values that the college is looking for in the applicants.
Your Contributions To The Institution – Discuss why you are a perfect fit for the course degree. Similarly, mention your eagerness to learn skills and perform tasks to make a valuable contribution to the field or institution.
Your Future Career Goals – Discuss how applying to this job or course program will help you achieve your career goals. Also, state your aims to describe you as a suitable candidate.
The body of your statement should have 1-2 paragraphs. However, 2-3 sentences are enough for the body of a job statement.
Research about your desired institution before, for writing why you are applying to it rather than another college. It is important to find out what sets your choice apart from other options.
Apart from this, a personal statement is similar to writing a college application essay. Both of these application essays follow almost a similar pattern. However, a college application includes some other aspects as well.
3. Write a Strong Conclusion
Write a strong essay conclusion that leaves a lasting impression on the college admission officers. It should clearly restate why you have applied to a particular college. Moreover, a well-written conclusion should persuade the reader to review your academic credentials.
The following are the elements that you should discuss while concluding a personal statement.
Extension of Your Goals – Discuss how getting enrolled in a course program will help in achieving your future goals. Write both short and long term goals. Such as what you hope to achieve in college or where you see yourself in the next 10 years.
Summarize Your Personal Statement – Write a brief summary of your personal statement. Don't forget to connect your achievements or experiences to your future contributions to the institute.
Review and Link Back to your Introduction – Try to link your introduction and conclusion paragraph. Discuss what interests you the most in the course by mentioning your academic objectives.
End this section by stating your enthusiasm for the opportunity. This technique will influence the committee to consider your candidacy seriously.
Lastly, the conclusion for a college personal statement is one paragraph. However, for a job, one compelling sentence is enough to write a conclusion.
4. Edit and Proofread
After finishing writing your personal statement, take enough time to edit or proofread it. Read it aloud to identify the following areas of improvement.
Spelling and grammar
Simple and easy language
Relevancy
Clear phrasing
Passive voice
Specificity
You can also ask a friend or a colleague to proofread your personal statement. It will help you get feedback on the tone, quality, writing conventions, and overall representation of your statement.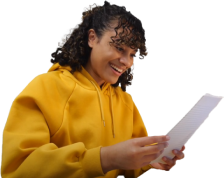 Tough Essay Due? Hire Tough Writers!
Do's and Don'ts of Personal Statement
Important elements should be kept in mind to write a statement for college, job, or scholarship. Here, we have mentioned some essential dos and don'ts of a personal statement.
Do's of Personal Statement
Below given are the dos of personal statements. These elements will help to leave a strong impression on the admission committee.
Keep your statement personal but professional.
Add relevant and direct information.
Use your own words to write about your education.
Include your reasons for applying to the particular institute.
Discuss the capabilities that make you a suitable candidate.
Make a list of your accomplishments to help your statement stand out.
Mention any relevant skills and experiences that make you the perfect fit for the role.
Describe your hobbies that are related to the subject of your interest.
Use short sentences and simple language to make it clear and effective.
Use a positive tone to demonstrate your enthusiasm for the opportunity.
Use active voice and strong verbs to engage the reader.
Try to write a unique personal statement that makes it different from other applicants.
Don'ts of Personal Statement
The don'ts of a personal statement are as follows. Never include them in your statement if you want to make it look appealing.
Do not focus on your weaknesses or failures.
Avoid making spelling or grammatical mistakes in your personal statement.
Do not add quotes or references, as a personal statement is all about you and how you present yourself.
Do not use an informal tone or fancy language.
Avoid including irrelevant details just to meet the word count. Instead, try to be specific and to the point.
Never copy anything from the internet and paste it into your statement. Instead, write it in your own voice.
Don't be too general when it comes to personal statement writing.
Personal Statement Examples
Take into account these personal statement examples to find the right direction for writing your own.
Every college requires students to submit a personal statement when applying for admission. Thus, most students find it nerve-racking to write something that highlights their abilities.
Such pressure to make a mark on authorities often makes them confused. Similarly, they also develop a fear of being rejected. If you are among such students who have no idea how to get into a graduate program, hire a legit essay writing service to help you out.

MyPerfectWords.com is here to guide you. Our college admission essay writing service know what it takes to impress the committee!

Here, you can hire a professional writer for your personal statement. Our college admission essay writers working with our personal statement writing service aim to help you write a perfect statement. Moreover, our team has years of experience to produce scholarship essays and personal statements.