Students often struggle when asked to write a literary analysis essay. It's challenging to know where to begin and how to navigate the complexities of dissecting a text.
The world of literary analysis can seem confusing, with symbolism, tone, and perspective to consider. Without guidance, it's easy to feel lost.
In this guide, we'll provide a clear roadmap, practical tips, and examples to simplify the process. You'll gain the skills to confidently analyze any text. By the end of this read, you will have the skills to develop a good literary analysis essay.
So let's dive right in!

What is a Literary Analysis Essay?
A literary analysis essay is a detailed examination of a literary work's components, including its themes, characters, setting, and the author's creative choices.
This analytical approach can be applied to various forms of literary writing, such as novels, short stories, plays, poems, etc. It's a method for diving deeper into the layers of meaning within a literary work.
Literary Essay, Rhetorical Analysis, and Argumentative Essay
A Literary Analysis Essay is distinct from a rhetorical analysis or argumentative essay. While all three types of essays involve a critical examination, they have different purposes and focuses.
In a literary analysis essay, the focus is on exploring elements of a literary work, like themes, characters, and symbolism, to understand the author's choices.
Conversely, a rhetorical analysis essay assesses how an author uses persuasive techniques in non-literary contexts.
An argumentative essay aims to present a clear viewpoint on a specific topic supported by evidence and reasoning.
These essays demand critical thinking, but they serve different communication and expression purposes.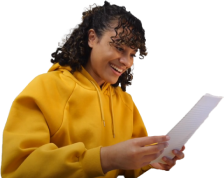 Paper Due? Why Suffer? That's our Job!
How to Write a Literary Analysis Essay?
Writing a strong literary analysis essay can be tricky. Many students often fall into the trap of sharing their own thoughts or simply summarizing the text.
To avoid this and write a more effective literary analysis essay, follow the steps below:
Step 1: Select a Text
To begin your literary analysis essay, pick a piece of writing that you like and is suitable for analysis. This could be a poem, a short story, a novel, a play, or any similar written work.
Tips for Choosing Your Text
For Short Texts (Poems or Short Stories):


Take it slow. Read them more than once.

Pay attention to the words used and their meanings.

Think about the emotions or ideas the author is trying to convey.

Look at the way it's structured, like how a poem is divided into lines and stanzas.

For Longer Texts (Novels or Plays):


Give yourself enough time to read the whole thing.

Take notes on important events, characters, and themes.

Think about the author's choices in writing and how they affect the story.

Consider the overall structure and how the parts fit together.
Explore Language Choices:
Look for words or phrases that stand out. They might have special meanings or create certain feelings.

Consider how the author uses language to describe things, characters, or emotions.
Understand Narrative Voice:
Think about who is telling the story. Is it one of the characters (first-person) or someone outside the story (third-person)?

The narrative voice can shape how you perceive the events and characters.
Analyzing Structure:
Examine how the text is organized. For example, poems have lines and stanzas, while novels have chapters.

Structure can affect the flow of the story and the reader's experience. Pay attention to how it's used in the text you've chosen.

Step 2: Brainstorm a Topic
Once you've chosen your text, the next step is to come up with a topic for your literary analysis essay. Think about what aspect of the text you find most interesting or want to explore.
It could be a theme, a character's development, the use of symbolism, or anything else that stands out to you.
Tips for Brainstorming a Topic:
Consider what questions you have about the text. What do you want to understand better?

Look for patterns or recurring elements in the text. Is there something that keeps coming up, like a symbol or a particular theme?

Think about the author's choices. Why did they write the text this way? What message are they trying to convey?

Don't rush this step. Take your time to explore different ideas, and choose a topic that genuinely interests you. It will make the writing process more engaging and enjoyable.

Step 3: Collect the Evidence and Write a Thesis
Now that you have your topic, it's time to gather evidence from the text to support your analysis. Look for quotes, passages, or examples that relate to your chosen topic. Once you have your evidence, use it to craft your thesis statement.
This statement should be a concise summary of the main point or argument you'll explore in your literary essay.
Tips for Collecting Evidence and Writing a Thesis:
Your thesis should be a single sentence that presents your analysis or interpretation of the text. It's your main argument.

Your evidence should directly support your thesis. It's the proof that your analysis is based on.
Step 4: Develop the Outline
Creating an outline is like making a roadmap for your literary analysis essay. It helps you organize your thoughts and decide how to structure your essay. Here's how to develop a literary analysis essay outline:
Tips for Developing the Outline:
Start with your introduction: Write down the main points you want to cover in the introduction, such as introducing the text, the author, and your thesis statement.

Plan your body paragraphs: Decide how many body paragraphs you'll have and what each one will focus on. Will you analyze characters, themes, symbols, or something else?

List your supporting points: Under each body paragraph, jot down the key ideas or arguments you'll discuss.

Consider your conclusion: Think about how you'll sum up your analysis and restate your thesis in the conclusion.
Step 5: Craft Your Introduction
Your introduction sets the stage for your literary analysis essay. It should grab the reader's attention and provide essential information about the text you're analyzing.
Tips for Crafting Your Introduction:
Begin with a hook: Start with an intriguing question, a captivating quote, or an interesting fact related to your text.
Introduce the text and the author: Provide some background information about the literary work and its creator. Mention the title, author's name, and any relevant context.

Present your thesis statement: Clearly state the main point or argument you'll explore in your essay.

Give a brief overview: Provide a snapshot of what your analysis will cover, mentioning the key elements or aspects of the text you'll discuss.

Step 6: Write Body Paragraphs and Analysis
Now that you've laid the groundwork with your outline, it's time to dive into writing the body of your literary analysis essay. Each paragraph should focus on one of the main points or arguments you outlined in the previous step.
Here is how to write body paragraphs:
Topic Sentence: Start each body paragraph with a clear topic sentence that relates to your thesis. This sentence should introduce the main point you'll discuss in the paragraph.
Provide Evidence: Use quotes or specific examples from the text to support your topic sentence. Make sure the evidence directly relates to your argument.
Analysis: After presenting evidence, analyze it. Explain how the evidence supports your argument and contributes to your overall thesis. What does it reveal about the text and its meaning?
Transition: Use transition words and sentences to smoothly connect your ideas and guide the reader through your analysis. These sentences help create a logical flow between paragraphs.
Step 7: Literary Devices and Techniques
In this step, you'll explore the literary devices and techniques used by the author in the text. These devices, such as symbolism, imagery, foreshadowing, and irony, play a crucial role in conveying the author's message and creating a deeper layer of meaning.
You can dedicate specific paragraphs or sections of your essay to discuss these literary devices.
How to Analyze Literary Devices and Techniques:
Identify Devices: Begin by identifying the literary devices used in the text. Look for

symbols, metaphors, similes, imagery, alliteration, personification,

and more. Note where and how they appear.

Examine Their Purpose: Consider why the author used these devices. What do they add to the story or poem? How do they contribute to the overall message or theme?

Impact on the Reader: Explain how these literary devices enhance the narrative and reinforce the themes or messages within the work.

Provide Examples: Use specific examples from the text to illustrate and reinforce your analysis.

Step 8: Conclude your Essay
Concluding your literary analysis essay is the final step in wrapping up your analysis and leaving a lasting impression on the reader. Here's how to craft a strong conclusion:
Key Elements of a Strong Conclusion:
Key Findings Recap: Summarize your key findings and restate your thesis statement in a rephrased manner.

Significance Emphasis: Emphasize the significance of your analysis and highlight its broader implications for understanding the literary work as a whole.

Thought-Provoking Closing: Leave the reader with a thought-provoking or insightful concluding statement that ties together your analysis.

Avoid Introducing New Ideas: Your conclusion should not introduce new topics or evidence that wasn't discussed in the body of your essay.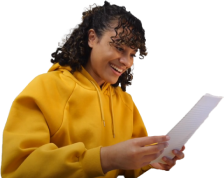 Tough Essay Due? Hire Tough Writers!
Types of Literary Analysis Essay
When it comes to literary analysis essays, there isn't just one approach to fit all. The type of literary analysis essay you write depends on your specific goals and the literary work you're analyzing.
Here are some common types:
Theoretical Literary Analysis (Aesthetic or Formalist Analysis)
This type of analysis focuses on the text's form, structure, and aesthetics. It explores how literary elements like symbolism, imagery, and narrative style contribute to the overall meaning.

Close Reading Literary Analysis (Textual Analysis)
Close reading involves a detailed examination of a specific passage or section within the text. It dissects the language, syntax, and word choice to uncover deeper meanings.

Applied Literary Analysis (Practical or Real-World Analysis)
This analysis applies the lessons or insights gained from literature to real-life situations, social issues, or practical concerns. It explores how literature can inform or influence the world.

Comparative or Synergistic Literary Analysis
This type of analysis explores connections and contrasts between different texts, genres, or forms of art. It considers how literature interacts with other disciplines, such as history, psychology, or visual arts.
Contextual or Historical Literary Analysis
This analysis examines a text within its historical, cultural, or social context. It considers how the time period and societal influences shape the themes, characters, and narrative.

Literary Analysis Essay Example

In this section, we provide literary analysis examples that help students better understand and apply literary analysis. These examples cover various aspects, including examining text, exploring themes, and using literary devices.
Let's check out some literary analysis essay examples pdf below
Literary Analysis Essay Topics
Choosing a strong topic is important to draft a good literary essay. Following are some topic examples that you can use for your literary essays:
The Symbolism of the Green Light in 'The Great Gatsby.'

The Role of Gender and Identity in Shakespeare's Sonnets.

Exploring the Themes of Love and Fate in 'Romeo and Juliet.'

The Use of Magical Realism in Gabriel García Márquez's 'One Hundred Years of Solitude.'

Analyzing the Motif of War in Hemingway's 'A Farewell to Arms.'

The Metaphorical Layers of George Orwell's 'Animal Farm.'

The Complexity of Morality in J.D. Salinger's 'The Catcher in the Rye.'

The Historical Context of Haruki Murakami's 'Kafka on the Shore.'

The Portrayal of Race and Identity in Zora Neale Hurston's 'Their Eyes Were Watching God.'

The Significance of Nature in the Poetry of Emily Dickinson.

Wrapping Up!
We hope this guide has provided you with the insights, and clarity you need to start on your literary essay with confidence.
However, if you find yourself short on time remember that professional help is just a click away. At MyPerfectWords.com, we offer reliable essay writing service at the best price.
Our team of expert writers is well-equipped to handle a diverse range of literary analysis topics. So, if you're ready to take your literary analysis to the next level, don't hesitate to place your order.