In the scholarship application process, essays give students a great opportunity to showcase their abilities and strengths. A well-written scholarship essay can be the most effective part of the whole application process. So, it is important to put much time and careful attention into its preparation.
Essays are often required for scholarship programs. But not all scholarship essays have similar prompts or questions to answer.
Take a look at this guide, find some easy scholarship writing prompts, and learn how to address them.
Common College Scholarship Essay Prompts
Scholarship essays vary in subject, but most of them are all about recounting a personal experience. Most of the scholarship programs ask students to write an essay.
So, it is better to have four to five pre-written essays before beginning to apply for a scholarship. This will help you complete the application process fast and will allow you to prepare and apply for more scholarships.
Here are some common scholarship essay prompts and popular essay questions used by colleges to improve your scholarship chances. Don't forget to follow the proper scholarship essay format when you are answering these questions.
How did you become a dedicated student? What experiences have persuaded you to continue your education?
How did you become a school policymaker, and what changes did you make in your classroom?
Does your skill, attribute, or quality differentiate you from everyone else? And how did you develop that attribute?
How has your favorite book or movie influenced your life in a good way?
How did you come out at the most crucial time of your life? And how did your perspective on life change after that difficulty?
What would you most like doing right now, and where would you most like after five years?
Have you tried so hard for something and succeeded? What factors contributed to your success?
What is your strongest personality trait?
How do your family and friends characterize you? And how would they write about you in your scholarship essay?
Have you ever participated in any activity outside your classroom that demonstrates your qualities?
What are your extracurricular activities, and what made you participate in these activities? Why do you continue contributing to them?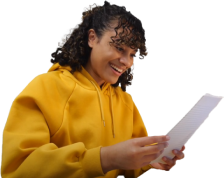 Paper Due? Why Suffer? That's our Job
List of Unique Scholarship Essay Prompts
These are some common scholarship essay questions you might find on a college application.
How will this scholarship help you achieve your goals?
What are your goals for your education and future?
What sets you apart from other people?
Describe a time when you volunteered your time to help others.
Can you tell me about a time when you didn't succeed?
What activities are you the most involved in?
How has your education helped you become the person you are today?
What is your most important accomplishment, and how does it relate to your chosen field of study?
How can you make a difference in our world?
How to Address Scholarship Essay Prompts?
The way to address your scholarship essay prompt will determine how successful your application is.
Every scholarship essay question should be approached differently. Below you can find some scholarship essay prompts, examples, and guidelines on how to approach them.
1. Where Do You See Yourself in 5 Years?
To answer this question, you need to show that you have a plan for your future that corresponds to your degree program.
The scholarship committee will make sure that their money is going to a deserving candidate. So, it is important for you to create an answer that shows your realistic goals and how they can be achieved through education.
2. What Is Your Biggest Weakness?
Remember, there are thousands of students applying for the scholarship program. So make sure your answers set you above the other candidates.
To address this question, you need to turn your weaknesses into great opportunities. For example, you can start like, 'I have limited knowledge in this field, but with my degree, I will be able to.'
Starting with a problem and then coming with a solution will show that you are forward-thinking and that quality is worth rewarding.
3. What Is Your Greatest Personal Achievement?
To answer this question, you can choose any achievement in your life. You just need to make sure that you can relate it to your education.
4. What Are Your Contributions to Your Community?
This is a very common scholarship essay question in which you need to describe your experience in community service. Share your experience and the work you have participated in.
In this prompt, you need to address what you have learned by participating in community service and how you plan to contribute to your community in the future.
5. What Makes You Unique?
Everyone has a traitor, an attribute that makes them different and unique. It could be their habit or interest.
Provide as much detail as possible to answer this prompt in the best way possible.
Sample Scholarship Essay Prompts
The scholarship essay is the most important part of the application process, but it can be the hardest.
But the essay should not keep you away from applying to scholarship programs. A good approach is to go through some sample scholarship essay prompts available online to get a better idea.
You can also look at this sample and start preparing for application programs.
You can also go through some of the best scholarship essay examples and learn how to respond to each prompt in the best way.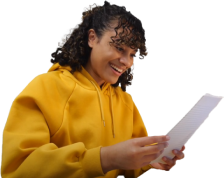 Tough Essay Due? Hire Tough Writers!
Scholarship Essay Topics 2022
Besides the most general topics, scholarship applications may also ask questions regarding your achievements, background, a field of study, and future goals.
Here are a few more topics that you can choose to show the scholarship committee who you really are and why you indeed deserve financial aid.
Describe a person who you admire the most?
What are your short and long-term goals?
Choose a book that has affected you deeply?
Why are you the best fit to get this financial aid?
What inspires you?
What leadership qualities do you have?
Describe a solution to a current social issue of your choice.
Why do you need a scholarship?
Hopefully, you get a better idea of approaching such an essay with the above list of scholarship essay prompts. But it is not easy to predict every scholarship essay question. Nevertheless, knowing some of the important ones can give you an advantage on applications.
Still, if you don't know where to start or are looking for expert help, get one-on-one help from the best essay writers at MyPerfectWords.com.
Our college admission essay writing service is all you need to stand out from other applicants and win the scholarship.
Contact us and get expert scholarship writing help from our online writing service.