Whether you are a science or literature student, you have one task in common:
Writing an essay about science fiction!
Writing essays can be hard, but writing about science fiction can be even harder. How do you write an essay about something so diverse and deep? And where do you even start?
In this guide, we will discuss what science fiction is and how to write an essay about it. You will also get possible topics and example essays to help get your creative juices flowing.
So read on for all the information you need to ace that science fiction essay.

What Is Science Fiction?
Science fiction is a genre of literature that often explores the potential consequences of scientific, social, and technological innovations. These might affect individuals, societies, or even the entire human race in the story.
The central conflict in many science fiction stories takes place within the individual human mind, addressing questions about the nature of reality itself.
It often follows themes of exploration, speculation, and adventure. Science fiction is popular in novels, films, television, and other media.
At its core, science fiction uses scientific concepts to explore the human condition or to create alternate realities. It often asks questions about the nature of reality, morality, and ethics in light of scientific advancements.
Now that we understand what science fiction is let's see some best essays on science fiction!

What Is a Science Fiction Essay?
Science fiction essays are written in response to a specific prompt, often focusing on a particular theme or idea.
They can be either creative pieces of writing or analytical works that examine the genre and its various elements.
It is different from a science essay, which discusses scientific topics in detail.
Science fiction essay aims to explore the implications of science fiction themes for our understanding of science and reality.
For science students, writing about science fiction can be useful to enhance their scientific curiosity and creativity.
Literature students get to write these essays a lot. So it is useful for them to be aware of some major scientific concepts and discoveries.
Here's a video about what is science fiction: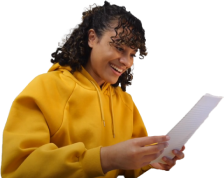 Tough Essay Due? Hire Tough Writers!
Science Fiction Essay Examples
It can be helpful to look at examples when you're learning how to write an essay.
Here are some sample science fiction essay PDF examples:

How to Write an Essay About Science Fiction?
Writing an essay on science fiction can be fun and exciting. It gives you the opportunity to explore new ideas and worlds.
Here are a few key steps you should follow for science fiction essay writing.
Know What Kind of Essay To Write
Science fiction essays can be descriptive, analytical, or exploratory. Always check with your instructor what kind of essay they want you to write.
For instance, a descriptive science fiction essay topic may describe the story of your favorite sci-fi novel or tv series.
Similarly, an analytical essay might require you to analyze a concept (e.g., time travel) in the light of science fiction literature.
On the other hand, explanatory essays require you to go beyond the literature to explore its background, influence, cultural impact, etc.
So different types of essays require different types of topics and writing styles. So it is important to know the type and purpose of your science fiction essay.
Find an Interesting Topic
There is a lot of science fiction out there. Find a movie, novel, or science fiction concept you want to discuss.
Think about what themes, messages, and ideas you want to explore. Look for interesting topics that can help make your essay stand out.
You can find a good topic by brainstorming the concepts or ideas that you find interesting. For instance, do you like the idea of traveling to the past or visiting futuristic worlds?
You'll find some great science fiction topics about the ideas you like to explore.
Do Some Research
Read more about the topic or idea you have selected.
Read articles, reviews, research papers, and talk to people who know science fiction. Get a better understanding of the idea you want to explore before diving in.
When doing research, take notes and keep track of sources. This will come in handy when you start writing your essay.
Organize Your Essay Outline
Now that you have done your research and have a good understanding of the topic, it's time to create an outline.
An outline will help you organize your thoughts and make sure all parts of your essay fit together. Your outline should include a thesis statement, supporting evidence, and a conclusion.
Once the outline is complete, start writing your essay.
Start Writing Your First Draft
Start your first draft by writing the introduction. Include a hook, provide background information, and identify your thesis statement.
Here is an example of a hook for a science fiction essay:
"Imagine a future where humanity's fate hangs in the balance, where machines challenge our very existence. In this gripping exploration of artificial intelligence, we dive deep into the heart of science fiction, where the line between man and machine blurs, and our future teeters on the edge of possibility."
Your introduction should be catchy and interesting. But it also needs to show what the essay is about clearly.
Afterward, write your body paragraphs. In these paragraphs, you should provide supporting evidence for your main thesis statement. This could include quotes from books, films, or other related sources. Make sure you also cite any sources you use to avoid plagiarism.
Finally, conclude your essay with a summary of your main points and any final thoughts. Your science fiction essay conclusion should tie everything together and leave the reader with something to think about.
Edit and Proofread
Once your first draft is complete, it's time to edit and proofread.
Edit for any grammar mistakes, typos, or errors in facts. Check for sentence structure and make sure all your points are supported with evidence.
After that, read through your essay to check for flow and clarity. Make sure the essay is easy to understand and flows well from one point to the next.
Finally, make sure that the science fiction essay format is followed. Your instructor will provide you with specific formatting instructions. These will include font style, page settings, and heading styles. So make sure to format your essay accordingly.
Once you're happy with your final draft, submit your essay with confidence. With these steps, you'll surely write a great essay on science fiction!
Read on to check out some interesting topics, essay examples, and tips!
Science Fiction Essay Topics
Finding a topic for your science fiction essay is a difficult part. You need to find something that is interesting as well as relatable.
That is why we have collected a list of good topics to help you brainstorm more ideas. You can create a topic similar to these or choose one from here.
Here are some possible essay topics about science fiction:
The Evolution of Science Fiction

The Impact of Science Fiction on Society

The Relationship Between Science and Science Fiction

Discuss the Different Subgenres of Science Fiction

The Influence of Science Fiction on Pop Culture

The Role of Women in Science Fiction

Describe Your Favorite Sci-Fi Novel or Film

The Relationship Between Science Fiction and Fantasy

Discuss the Major Themes of Your Favorite Science Fiction Story

Explore the themes of identity in sci-fi films
Science Fiction Essay Questions
Explore thought-provoking themes with these science fiction essay questions. From futuristic technology to extraterrestrial encounters, these prompts will ignite your creativity and critical thinking skills.
How does sci-fi depict AI's societal influence?
What ethical issues arise in genetic engineering in sci-fi?
How have alien civilizations evolved in the genre?
What's the contemporary relevance of dystopian themes in sci-fi?
How do time travel narratives handle causality?
What role does climate change play in science fiction?
Ethical considerations of human augmentation in sci-fi?
How does gender feature in future societies in sci-fi?
What social commentary is embedded in sci-fi narratives?
Themes of space exploration in sci-fi?
Science Fiction Essay Tips
So you've been assigned a science fiction essay. Whether you're a fan of the genre or not, this essay can be daunting.
But don't fear!
Here are some helpful tips to get you started on writing a science fiction essay that will impress your teacher and guarantee you a top grade.
Choose a Topic That Interests You
When it comes to writing a science fiction essay, it's important to choose a topic that interests you.
Not only will this make the writing process more enjoyable, but it will also ensure that your essay is more engaging for the reader.
If you're not sure what topic to write about, try brainstorming a few science fiction essay ideas until you find one that feels right.

Make Sure Your Essay is Well-Organized

Another important tip for writing a science fiction essay is to make sure that your essay is well-organized.
This means having a clear introduction, body, and conclusion. It also means ensuring that each paragraph flows smoothly into the next.
If your essay is disorganized or difficult to follow, chances are the reader will lose interest quickly.
Use Strong Verbs
When writing any type of essay, it's important to use strong verbs. However, this is especially true when writing a science fiction essay.
Using strong verbs will help add excitement and energy to your writing, making it more engaging for the reader. Some examples of strong verbs include "discover," "create," and "explore."
Be Creative
One of the best things about writing a science fiction essay is that you have the opportunity to be creative. This means thinking outside the box and coming up with new and innovative ideas.
If you're struggling to be creative, try brainstorming with someone else or looking at other essays for inspiration.
Use Quotes Appropriately
While quotes can be helpful in supporting your argument, it's important not to rely on them too heavily in your essay.
If you find yourself using too many quotes, chances are you're not doing enough of your own thinking and analysis.
Instead of relying on quotes, try to paraphrase or summarize the main points from other sources.
To conclude the blog,
Writing a science fiction essay doesn't have to be overwhelming. With these steps, examples, and tips, you can be sure to write an essay that will impress your teacher and guarantee you a top grade.
Whether it's an essay about science fiction movies or novels, you can ace it with these steps! Remember, the key is to be creative and organized in your writing!
Don't have time to write your essay?
Don't stress! Leave it to us! Our science essay writing service is here to help!
Contact the team of experts at our best essay writing service. We can help you write a creative, well-organized, and engaging essay for the reader. We provide free revisions and other exclusive perks!
Moreover, our AI-based essay typer will provide sample essays for you completely free! Try it out today!
Have questions? Ask our 24/7 customer support!