Are you a college or high school student ready to start on a journey through the fascinating world of essay writing? Brace yourself because you'll encounter a variety of essay types that will challenge your writing skills and creativity.
Picture this: You're handed an assignment, a blank canvas on which to express your thoughts and ideas. But here's the catch – your teacher won't always specify the type of essay you should craft. It's up to you to solve the riddle hidden within the assignment question.
But fear not!
In this blog, we'll discuss the four most common types of essays you're likely to encounter during your academic years. While these essays may share a common foundation and structure, each possesses its own unique characteristics.
Let's get started!
Major Types of Essays In Academic Writing
When it comes to academic writing, understanding the different types of essays is essential. Each type serves a distinct purpose and requires a specific approach. Let's explore these essay types along with their descriptions and example prompts in the table below:

| | | |
| --- | --- | --- |
| Essay Type | Skills Assessed | Example Prompt |
| Argumentative Essay | Formulating arguments, critical thinking, persuasive writing. | Argue for or against the implementation of stricter gun control laws in the United States. |
| Descriptive Essay | Sensory Description, Imagery, Figurative Language | Describe a place you visited recently and explain why it left a lasting impression on you. |
| Expository Essay | Informative Writing, Research, Clarity | Explain the causes and effects of climate change, and discuss its impact on the environment and society. |
| Narrative Essay | Storytelling, Narrative Structure, Engagement | Describe a memorable childhood event that had a significant impact on your life. |
Understanding these major types of essays and the skills they assess will empower you to approach your academic writing with confidence. Depending on your assignment's requirements, you'll be better equipped to choose the appropriate essay type and showcase your writing abilities effectively.
Each type offers a unique opportunity for you to express your ideas, and arguments and perfect your specific writing skills.
Here are the key types of essay formats explained in detail, along with examples to enhance your understanding.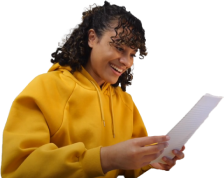 Paper Due? Why Suffer? That's our Job!
Argumentative Essay
An argumentative essay is an essay type that presents a well-structured argument supported by evidence and reasoning. The primary goal is to engage the reader in a discussion, provide evidence, and logically demonstrate why a particular viewpoint is more valid.
In simple words, the writer must provide evidence and remain consistent in their stance. While argumentative essays present both sides of an issue, they strongly support one perspective.
Characteristics of Argumentative Essay
Clear Thesis: It should have a clear thesis statement to state the writer's position.

Balanced Presentation: An argumentative essay addresses opposing views.

Evidence: It relies on credible and relevant evidence.

Logical Reasoning: The essay presents arguments coherently and logically.

Persuasive Techniques: It uses persuasive techniques like ethos, pathos, and logos effectively.

Structure

Introduction: The introduction introduces the topic and thesis, engaging the reader's interest.

Body: The body paragraphs present arguments with supporting evidence.

Counterargument: It addresses opposing viewpoints and refutes them.

Conclusion: The conclusion summarizes key points and reinforces the thesis, leaving a strong impression.

Argumentative Essay Example
Before beginning the writing process, it is better to go through some expertly crafted argumentative essay examples. This approach enables you to grasp the argumentative essay outline and writing style more effectively.
Here is a high-quality argumentative essay example for you to get inspiration for your essay.

Descriptive Essay
A descriptive essay is a form of writing that aims to immerse readers in a sensory-rich experience. Unlike informational or persuasive essays, its primary goal is to vividly depict a person, place, object, event, or experience.

The descriptive essay must evoke the senses and emotions of the reader. In simple terms, the reader should see what you saw and feel what you felt. To make it better, you can use several literary devices such as;
Metaphors

Analogies

Alliteration

Imagery

Dialogue
All of them help in making the experience and your essay better.

Key Characteristics
Sensory Detail: Descriptive essays appeal to the five senses to create a multisensory experience.

Vivid Imagery: They use figurative language and descriptive adjectives to bring the narrative to life.

Emotional Connection: These essays often aim to establish an emotional bond between the reader and the subject.

Structured Approach: They typically follow an introduction-body-conclusion structure.
Structure:
Introduction: Introduces the subject and purpose, sometimes with a thesis statement.

Body Paragraphs: Focus on specific aspects or details using sensory language and vivid descriptions.

Conclusion: Summarizes the central theme and leaves a lasting impression.
Descriptive Essay Example
Creating a perfect descriptive essay for an assignment is not difficult if you go through some expert descriptive essay examples first.
Here, we have provided a well-written descriptive essay for you to get inspired from and start the writing process confidently.

Expository Essay
An expository essay is a type of writing that provides clear and objective explanations of a topic without expressing personal opinions. It aims to inform and educate by presenting factual information and analysis.
Therefore, it is important that you make a focused outline and stick to it throughout the process.
An expository essay incorporates a wide array of essays such as:
Key Characteristics
Objective Presentation: Expository writing maintains an impartial tone, avoiding personal biases.

Informativeness: They focus on explaining complex ideas or processes in a straightforward manner.

Structured: These essays follow a clear structure with an introduction, body paragraphs, and a conclusion.

Use of Evidence: They rely on credible evidence, facts, and examples to support the topic.
Structure
Introduction: Introduces the topic and often includes a thesis statement.

Body Paragraphs: Each paragraph focuses on a specific aspect and provides explanations and evidence.

Conclusion: Restates the main idea and summarizes key points.

Expository Essay Example
To start the writing process, here is an expository essay example from one of our expert writers to understand the basics.

Looking for more sample essays? Check out our Expository Essay Examples blog and take inspiration from a range of expository essays!
Narrative Essay
A narrative essay is a type of academic writing that tells a story or recounts a personal experience. Unlike other essays, its primary purpose is to engage and entertain the reader through storytelling.
Key Characteristics
Narrative Structure: Follows a chronological sequence with an introduction, body, climax, and conclusion.

First-Person Perspective: Typically written from the first-person point of view (e.g., "I" and "we"), sharing personal experiences and emotions.

Vivid Description: Relies on descriptive language and imagery to create a clear picture of events, characters, and settings.

Emotional Connection: Aims to establish an emotional bond with the reader by conveying the writer's thoughts and feelings.
Structure
Introduction: Sets the stage and introduces the central theme or problem.

Body: Presents events or experiences in chronological order with sensory details.

Climax: Often includes a central event or turning point.

Conclusion: Reflects on the narrative, offering insights, lessons, or resolution.

Narrative Essay Example
Wondering how to get your story into an interesting narrative? Learn the best way to write a perfect narrative essay with the help of expert narrative essay examples.
For more examples visit our blog on narrative essay examples.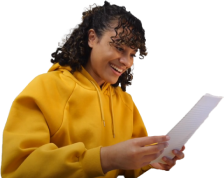 Tough Essay Due? Hire Tough Writers!
Other Essay Types
In addition to the major types of essays discussed earlier, there are several other specialized types that cater to specific audiences. These essays provide diverse avenues for writers to communicate their ideas effectively.
We will go through these essay types here.
Persuasive Essay
A persuasive essay is another type of academic essay. In this essay type, the writer utilizes logic and reasoning to show one's idea is more convincing than another idea.
In writing a persuasive essay, the main aim is to persuade the reader to accept a certain point of view. The presented argument or claim must use solid evidence and sound reasoning by stating facts, examples, and quotes.
Persuasive Essay Example
Since persuasive essays are the most common type of essay, it is essential to get familiar with their writing style. For that, here is an interesting persuasive essay example that you can explore for your better understanding.
Read our persuasive essay examples blog for more samples!

Analytical Essay
An analytical essay is a type of academic essay in which the writer analyzes a topic bit by bit. Writing an analytical essay is not about convincing readers of your point of view. But wanting readers to agree with what you have written.
So, there is no need to use strong persuasive language in an analytical essay. Rather you should aim to provide enough analysis to make sure your argument is clear to the readers.
Analytical Essay Example
Let's take a look at a sample analytical essay:
Read our analytical essay examples blog if you are looking for more sample essays!

Reflective Essay
A reflective essay type of essay requires you to examine your personal experiences through self-reflection. In the process of writing a reflective essay, you provide insight into what you have gained from those experiences.
What makes reflective essays different from other essay types is the fact that it examine the past experience from the present. Reflective essays take the reader through a journey of self-growth.
Reflective Essay Example
The following reflective essay example will help you get a clear idea of how to structure your analytical essay.
Rhetorical Analysis Essay
It is a form of a textual analysis essay in which the student examines and analyzes a persuasive text. It is like an essay, speech, or visual art and analyzes the rhetorical devices used in it. Writing a rhetorical analysis essay is different from writing other essays because it will be more than adding facts only.
Rhetorical Analysis Essay Example
Here is a rhetorical analysis essay example that will help you learn better.
Check out our rhetorical analysis essay examples blog for more samples!
Literary Analysis Essay
A literary analysis essay is based on close reading and analysis of a work of literature like poetry and novel. It identifies different literary factors like themes, setting, characters, setting, and the kind of language used in it. A literary analysis essay has the same 5 paragraphs as any other essay but the main subject and topic are different.
Literary Analysis Essay Example
Need help with your literary analysis essay? Below is a sample essay to help you understand better.
Summing it Up!
Now you know what are the different types of essays in academic writing that you are most likely to get assigned. However, if you still find it difficult to compose your essay, leave your piece of writing to our experts.

Whether you need an argumentative essay, narrative essay, descriptive essay, or expository essay we are here to help. Our expertise extends to all types of essays, ensuring that your academic writing needs are met with precision and excellence.
Request 'write my essay' today and let our professional writing service help you write A+ grade essays within your specified timeline!