A reflective essay is all about presenting your opinion and sharing your thoughts about certain subjects. Unlike other types of essays, writing a reflective paper does not need much research and references.
You write about your thoughts and experiences. This is what makes such a type of essay so appealing and different.
But, this does not mean that you do not need to follow any instructions and patterns. Many students find it a difficult task and if you are also one such student, then this blog is all you need to make this difficult task possible.
Reflective Essay Definition
A reflective essay is a personal type of writing that is based on the writer's thoughts and emotions about a particular place, person or event. Since it is a reflection of the writer's point of view, it is aimed at encouraging the reader to experience it in the same way.
To achieve it, the writer has to explain the event and its effect on their life experiences and thoughts. Since it needs a detailed narrative, students often confuse them with a narrative essay.
A reflective essay is different from a narrative essay. Instead of describing and telling the story only, it shows how you went through the events of your life and their effects on your personal growth. A narrative essay is different and it focuses on telling the story only, therefore, writing a narrative essay is different, and it focuses on telling the story only; therefore, writing a narrative essay is different and requires different skills.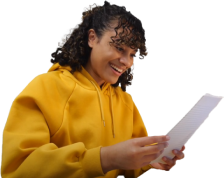 Paper Due? Why Suffer? That's our Job
Reflective Essay Format
Whenever you write an essay, it's important to make sure that your work is organized and well-written. You need to follow the proper format when writing the reflective essay.
Below is a reflective essay format.
Introduction
Give an overview of the topic
Include a thesis statement
Main Body
Provide examples to support your main topic
Conclusion
Wrap up the entire essay
Restate the thesis statement
How to Start a Reflective Essay?
It may sound strange, but an essay's success is based on planning and things you do before writing the essay.
Unfortunately, students consider this prewriting phase a waste of time and leave it out. As a result, they end up tiring themselves and working aimlessly.
To prevent this, we suggest that you dedicate some time to preparing and planning the writing process and things that you would add to your essay.
Following are the steps you should follow to start your essay well.
Start Early

Do not wait to work on your essay the night before. You may think that you will be able to get your essay right but this will not help you get an A on your essay. To have ample time, start your essay well before the deadline.

Brainstorm the Topics

A good topic is integral to a good essay. If your teacher has not given the essay topic, then it is a good opportunity to write about your favorite event or personal life experience. Note down the main topic or subject that you want to write about and make a mind map of all the related essay topics.

Research online and see what kind of topics are trending. This will help you in forming a good topic for writing this type of essay.

Research and Gather the Information

Once you are done with the topic, it is time that you research and gather all the relevant information and data about it. We know that a reflective essay does not need much research, but it is always better to back your claims, or ideas, with some credible sources

Doing so will build your credibility and your teacher will know that you are not making empty claims.

Organize the Researched Material

Organize all the research material that you have gathered for your essay. Instead of just adding them to your essay, see which sources are relevant to your essay material and stick to them.

However, use them to support your claims only.

Create an Outline

Before you start writing, create a detailed outline of the essay. Add the important points that you want to add to each of the sections. Instead of adding too much detail, stick to some more important and closely related ideas and points.

Creating an essay outline will limit your train of thought and keep you focused and mindful of the essay's word limit.
How to Write a Reflective Essay?
Every essay has the same format and some additions if asked by the teacher. Otherwise, just like any essay, a reflective essay also has the usual essay parts including the introduction, thesis statement, body section, conclusion, and references.
Below are the steps that you need to follow to write a great reflective essay.
Writing the Reflective Essay Introduction

'What shall I add in the introduction of my essay?' This is a common concern of many students as they do not know how to start a reflective essay introduction.

Since it is a start, it must be strong and engaging for the reader. When writing your essay introduction, add some background information about the main topic, and the main event or experience that you are going to talk about in your essay.

Write the Reflective Essay Thesis Statement

Usually, a thesis statement for a reflective essay has a few lines and you have to present the main idea of your essay in these few lines. It is the main thing of an essay and the reader will read it to decide if he wants to continue or not.

Create the Body Paragraphs

The main body is the meaty part of your essay. It contains all the main details and ideas of your essay. Generally, it has three paragraphs but you can increase the number, based on the word limit and scope of your essay.

Start each paragraph with a topic sentence or the parts of your life that you are discussing in the essay, and stick to a single idea only. Adding multiple ideas into the same paragraph will confuse your readers and disrupt your essay's structure also.

Draft the Conclusion

The closing of an essay is as important as its opening. Keep the thesis statement and the main points of your essay in mind when writing the conclusion. However, be concise and do not add any new information here.

Provide References

This is an absolute must in academic papers. Without a complete list of references, your cited material will be considered plagiarism, and this is something you do not want. Make sure that you have added all the citations and did not miss out on anything.

Proofread

Proofread and edit your essay before submitting it. This way, you can be sure that your essay is the best it can be. You can also submit the essay online for proofreading. This will help make sure that there are no mistakes in your essay.
Reflective Essay Outline
The reflective essay format differs from other types of essays. Reflective essays seem easy to write, but once you start the starting process, you might suddenly find the task very challenging.
The format for your reflective essay also depends on your target audience. If you are writing a reflective essay for your class, make sure to follow the format given to you by your professor.
The following are the most commonly used formats that you can use to arrange your thoughts and ideas in an organized way.
Besides the format, you have to think about the outline to make it clear what you want to include in your essay.
Here are the elements that you need to include in your reflective essay outline to make the writing process much easier.
Choose a topic
Gather information
Create an outline
Write the introduction
Body paragraphs
Conclusion
Edit and proofread your essay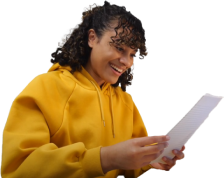 Tough Essay Due? Hire Tough Writers!
Reflective Essay Examples
Reflective essays are a form of writing where you examine a situation or experience through self-reflection. Through the course of writing a reflective essay, you provide insights and express your views on a particular event.
Reflective Essay Sample
We have added a sample reflective essay below to help you understand the writing better.
Reflective Essay On Leadership
Here is an interesting reflective essay example of leadership that you might find in high school level.
Below you can find a great example of a reflective essay that you can refer to for your own writing.
Reflective Essay Topics
Since reflective essays mostly revolve around a personal experience so you can choose whatever event you like. This type of writing is like a diary entry where you pen down your thoughts about a significant event in your life. It can be about your memorable day, a person you encountered or watching a favorite movie.
You can find plenty of top reflective essay topics online. No matter what topic you choose, the main purpose is to share your opinion on a specific event.
The following are some interesting reflective essay ideas that you can choose to write about.
A memorable encounter
The toughest decision you had to make
The most frightening moment of your life
Visiting a zoo
Your favorite book
A time when you were discouraged by something someone said
Your first year in college
An incident you will never forget
A funny moment with a friend
Swimming in a mountain lake
Reflective Essay Writing Tips
As you go through the content of the above English reflective essay examples, remember such an essay should be highly personal but also engaging to readers.
Reflective essays are not just about writing your story; you must reflect on your experiences to get the attention of your readers.
Here are some expert tips for you to help you write a perfect reflective paper.
A reflective essay is a type of personal writing where you write about your feelings and emotions. Make sure the information you are including in your paper is appropriate and relevant to the topic.
Even though this type of paper is personal still you must keep it professional. Avoid using slang words and double-check for grammar and spelling mistakes.
Don't forget to use transition words in your reflective essay to introduce specific details and draw connections between ideas. Using transitional words and phrases will help your reflective paper look more professional.
Refer to the above guide, tips, and examples to know what it takes to write a perfect reflective essay.
Reflective essay writing is not as easy as it seems. There are many students who find it difficult to express themselves in their words. The language barrier is another difficulty for many students, especially in the case of essay writing.
Another issue in crafting a great reflective paper is the lack of imagination and creativity. Some students also fail to understand the professor's guidelines.
Whatever the issue you are facing, you can reach out to us at MyPerfectWords.com and work with a professional and dedicated reflective essay writing service.
When you buy a reflective essay online from our online essay writing service, you can rest assured the quality will be of a high standard. We only employ the best and most qualified reflective essay writers capable of producing high-quality content within any deadline.
Why wait? Get the top grades with a perfect reflective essay from our professional writer!