Reflective essays are those types of essays where you critically examine a life experience. What makes this type of essay reflective is that the writer analyzes past experiences from the present.
Writing a reflective essay is not a very difficult task if you plan ahead and arrange your thoughts and ideas first.
Keep in mind that the reflective essay is not just about analyzing a past experience, it is about taking a deeper look at yourself. This type of academic writing is all about discovering and showing yourself to your readers.
In this blog, you will find an effective guide to creating a perfect reflective essay outline for an easy and fast writing process.
What is a Reflective Essay Outline?
A reflective essay outline is a layout of one's thoughts and ideas in regard to a specific item. This type of writing revolves around a specific response to a topic in the form of a personal reflection. Creating an outline is the first step to a well-written reflective paper.
A reflective essay is similar to a diary entry except for the fact that others will be reading it, so it needs a coherent structure.
What makes reflective essays different from other essay types is the reflective aspect that comes with them. Some of the reflective essay topics include; a life experience, a special place, or something you have watched.
Creating an outline prior to the reflective paper is important to organize your thoughts and ideas. Without a well-structured essay outline, it would be very difficult for you to write a perfect and well-organized reflective essay.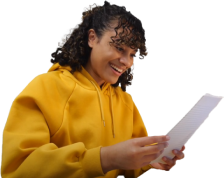 Paper Due? Why Suffer? That's our Job
How to Write a Reflective Essay Outline?
Because the purpose of writing a reflective essay is different from other types of essays, the organization of ideas will also be different. No matter what topic you have chosen; certain rules will always apply.
To organize your thoughts and ideas, create an outline that should include sections for introduction, body, and conclusion.
Here are the steps that you need to follow for creating a perfect reflective essay outline.
1. Reflective Essay Introduction
As with any other type of essay, reflective essays also start with an introduction. The following are the two important parts that an introduction for a reflective essay should include:
The Hook

It is usually the first statement written to catch the reader's attention from the beginning. For example, if you are writing about a real-life experience, a quick preview of the most exciting part is a good approach to start with.

You can also go through a hook example for an interesting beginning of your reflective essay.

The Thesis Statement

A thesis statement is a 1-2 sentence statement that describes what your essay is all about. Don't give too much information in the reflective essay thesis statement as you will expand on it later.
2. Reflective Essay Body Paragraphs
The next part of the outline is the body section. This can be the hardest part of the entire reflection paper outline. The body section will be very difficult and time-consuming to write if you have not prepared the reflective essay outline first.
Start your body paragraph with a topic sentence to explain its main idea. If you are describing an event, here is what each paragraph of your reflective essay should include.
First Body Paragraph

The first paragraph will be a description of the event. Don't forget to answer the 'who', 'what', 'why', 'where', and 'when' questions. Include the essential information to describe your experience.

For describing an event, a good approach is to follow the chronological order and avoid jumping from one time to another.

Second Body Paragraph

In the second part, you need to point out the main issues related to the described event. You can also insert quotations and cite sources if the described points can be related to the literature.

Third Body Paragraph

The third part of your reflection essay will focus on the reflection of your thoughts about the event. This part describes what lessons you have learned as well as insights and ideas that evolved after experiencing the event.
3. Reflective Essay Conclusion
It is the last paragraph of your reflective essay where you need to provide a final touch to the whole writing together. Reiterate the thesis statement and provide a brief summary of the points as well as the overall takeaway from your reflection.
Here are the key elements that you need to add for writing a great essay conclusion paragraph.
Restate your thesis statement
Review the main ideas
Closing sentence
Reflective Essay Outline Format and Style
The format of a good reflective essay greatly differs from other types of essays. A reflective essay is more like a well-structured story with insight and personal reflection.
No idea what a self-reflective essay outline format APA or MLA is?
The following are the three most common essay formats that you can use to arrange your reflective essay.
The typical length for a reflection essay is between 400-700 words. Make sure to ask your instructor and employ the correct length and format if it is assigned.
If your instructor asks you to format your reflection paper in MLA style or APA style, here are a few guidelines that you need to follow.
Guidelines for APA Style
Use Time New Roman.
Font size 12 should be used.
One inch margin on all sides of the paper.
On top of every page, include a page header.
Add page number on the right side of the paper.
The essay in APA should be divided into four parts; title page, abstract, the main body section, and references.
Guidelines for MLA Style
All text should be double spaced.
Use Times New Roman.
Font size 12 should be used.
One inch margin on all sides of the paper.
Titles should be centered.
Include your name, your instructor's name, course name, and date in the header.
The last page of your essay must include a work cited.
Tough Essay Due? Hire Tough Writers!
Reflective Essay Outline Sample
Learning how to write a reflective essay is something that you are going to face in your academic years. If you are working on your reflective essay assignment and need help with its outline, you can get help from the following sample template and example to get started with your reflection paper.
Basic Reflective Essay Outline Template
Here, you will find a great reflective essay outline pdf to help you create a killer outline for your reflective essay.
Use this reflective essay outline to get your paper started.
Reflective Essay Outline Example
Wondering how to start a reflective essay? Here you can find a great outline example for a reflective essay to help you start the writing process with perfection.
Reflective Essay Outline Writing Tips
Below, you can find some expert tips for creating a perfect outline for your reflective piece of writing.
Include all the key points in your outline that you want to cover in your essay body. Including points in your outline will help you not miss the information that relates to the central idea of your essay.
Clearly highlight the points that you want to include in your reflective essay introduction, body paragraphs, and conclusion. Mark those points where you need to provide details in support of your main idea.
Don't forget to double-check your reflective essay outline for structural mistakes. You may also check examples of similar essay outlines to compare structure and writing style.
Now you know how to create an outline for writing a reflective essay. Refer to the above guide to craft a perfect reflective essay structure to achieve the results you need.
Reflective essay writing can be challenging for some, even with all the advice and tips. Our essay experts know how to craft a perfect reflective essay outline and structure it in the best way to achieve high grades
We can take care of your reflective essay outline or even the whole writing if you struggle to implement your idea. Our professional writers are available 24/7 to assist you with your 'write my essay' request.
If you feel stuck while writing your reflective essay outline or are facing writer's block, we can help you from scratch.
Simply contact us and place your order at our essay writing service and get a fantastic essay from expert writers!