Finding yourself in a daunting struggle when it comes to writing a literature review?
You're not alone. It's often considered one of the most challenging aspects of academic writing.
But fear not! Our comprehensive guide is here to walk you through the essential steps and strategies to conquer this formidable task with confidence.

What Is A Literature Review
A literature review is a comprehensive examination and analysis of existing literature and scholarly works on a specific subject or research topic.
Though not included in all types of research papers, it serves as a critical component in academic research.
It goes beyond a mere annotated bibliography. Instead of simply listing sources, a literature review summarizes and synthesizes sources for deeper evaluation. It uncovers the strengths and weaknesses within various sources. This evaluation helps in understanding their central theme and relevance to the topic at hand.

The Significance of an Effective Literature Review
A robust review plays a crucial role in research papers, offering several key advantages:
Serves Context and Relevance: It provides background and context for your research, showing its importance within existing knowledge.
Addresses Research Gaps: Identifies areas where more knowledge is needed, guiding your contributions.
Aids in Forming Research Questions: Helps shape precise and meaningful research questions, building on existing theories.
Offers Methodological Guidance: Helps choose appropriate research methods for quality outcomes.
Utilizes Evidence: Enhances credibility by citing expert findings and theories.
Promotes Theory Development: Evaluates and combines existing theories, possibly leading to new ones.
Encourages Scholarly Dialogue: Integrates your work into ongoing academic discussions, influencing future research.
In essence, a well-crafted literature review informs and elevates your research, ensuring its relevance and impact within your academic field.

Types of Literature Review
Here are the types of literature review.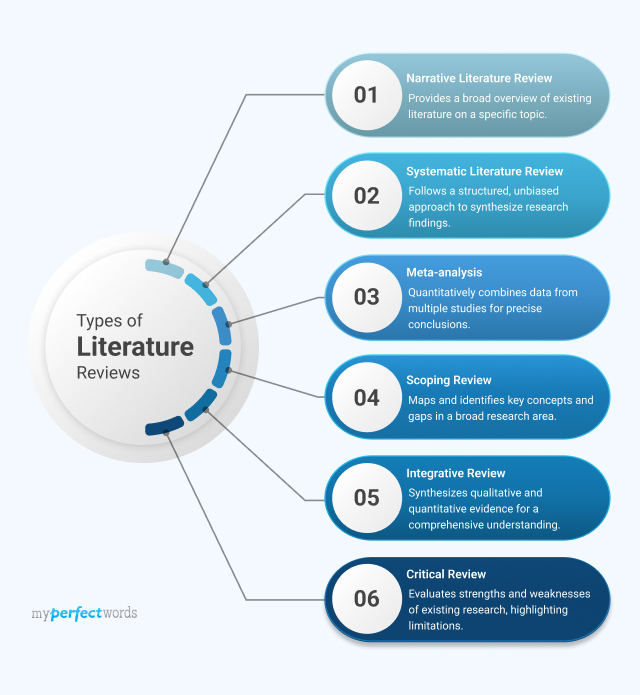 How to Write a Literature Review?
Crafting a literature review is a strategic process encompassing various vital steps to ensure a comprehensive and coherent review.
Here is how to write a good literature review:

Step 1: Search Relevant Literature
Start by searching for scholarly sources that you will cite in your paper that are closely related to your research topic. Utilize reputable academic databases for literature search like Google Scholar or your university's library resources.
Using relevant keywords and phrases in your search is essential, experimenting with diverse combinations for a thorough collection of relevant sources.
To maintain a track of the scholar articles and sources, using a bibliography or reference management software like EndNote or Zotero.
Step 2: Analyze and Select Sources
Evaluate the collected sources critically. Assess their credibility, relevance, and diversity.
Check their origins from respected journals or publishers, and the expertise of the authors in the field.
Ensure that chosen sources align precisely with your research objectives, aiming for diversity in perspectives to enrich your review's depth.
Step 3: Identify Connections
Synthesize information from selected sources, identifying common themes, patterns, and trends.
Uncover connections and relationships among diverse research pieces to construct a cohesive narrative within your literature review.
Step 4: Create An Outline
In this step, determine the structure of your review. Decide whether a chronological, thematic, or methodological approach best suits your topic.
Create a clear outline to organize the sections or themes your review will cover, providing a roadmap for your writing.
Step 5: Begin The Writing Process
Upon gathering and organizing sources, begin the writing phase:
Introduction: Set the stage by stating your research question or objective and explaining the review's significance.

Main Body: Present findings from your sources, categorizing them based on the chosen structure. Discuss key insights, critical evaluation, and gaps in the literature.

Conclusion: Summarize findings, highlight contributions, and address future research areas.
Step 6: Edit and Proofread
In the final phase, conduct a thorough review, focusing on clarity and coherence. Carefully edit to ensure logical argument flow and concise writing.
Additionally, verify the accuracy and consistency of citations and references based on the chosen citation style (e.g., APA, MLA). This comprehensive revision process guarantees a polished and well-structured literature review.
Following these steps results in a structured and informative literature review that adeptly synthesizes existing research on your chosen topic.
How to Write A Literature Review Example
The above guide will definitely help you understand what a literature review is and how to write one.
Here are some how to write a literature review samples:
Common Mistakes to Avoid
The following are some common mistakes that should be avoided while writing a perfect literature review.
Not taking sufficient time to define and identify the most relevant sources.

Sources of your literature review may not be related to the research problem.

Excessive reliance on secondary sources rather than relevant primary data.

Accepting other research findings as valid rather than critically examining the research design and analysis.

Not describing the search procedures to identify the review of the literature.

Only considering statistical results as valid rather than integrating the chi-squared or meta-analytic methods.

Not considering the research findings and interpretations found in the literature.
Now equipped with the essential steps to start your literature review, you're set on the right path.
Yet, if you find yourself facing challenges or needing additional support, our expert essay writing service is here for you. Our team is ready to provide expert guidance, ensuring you craft a strong and effective literature review.
So, whatever part of the research paper you need help with, we will deliver! Just say 'write my research paper' and let us take care of the rest.