Doing college applications can be an incredibly daunting task. With so much riding on the outcome, it's no surprise that many students feel intimidated by this process.
One of the most essential parts of a successful application is your college essay – but don't worry!
It doesn't have to be scary if you understand the basics of essay format.
In this blog, we are going to learn about all things needed to write an amazing college application essay.
So get ready! Let's learn about the proper essay format.

What is a College Application Essay Format?
A college application essay format is a set of guidelines to organize and structure your ideas. It plays an important role in giving a proper and logical direction to your essay.
Similarly, it is usually the first thing that the committee officers will see in your application.
For example, you have been asked to use an MLA or APA format, but you don't adhere to the guidelines. It leads the examiner to feel that you are not capable enough to follow basic instructions. So there is a possibility that they might not read your personal statement.
On the other hand, if you have written and formatted your essay correctly, it will help you stand out. Moreover, the officers will also know that you have understood and follow the essay's requirements.
A perfect college essay application format tells a good story of who you are and your career goals. Furthermore, it also clarifies how you can contribute to the college in the future.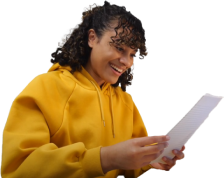 Paper Due? Why Suffer? That's our Job
How To Format A College Application Essay?
Formatting is quite stressful for most high school students while writing a college application essay. It is because they are often unfamiliar with the right structure.
So we have put together some crucial elements for you. Follow the guidelines given below to properly format your college application.
1. The Standard Writing Format
A college essay follows a standard format that includes the following three sections.
College Application Essay Introduction
It should introduce the applicant and the college application essay prompt that you are writing about. Similarly, it also mentions a thesis statement that discusses the main idea.
So it is important to select an impressive topic and take time to outline your thoughts. However, don't forget the admission essay is about you as a person.
Example:
As a future engineer, I am focused on developing sustainable solutions for urban areas suffering from energy shortages. With my interest in engineering and dedication to helping others, I believe that I can make a positive impact at your college and beyond. My goal is to use the knowledge gained in this course to create innovative solutions that will improve our world.

College Application Essay Body
It is a detailed part of your college essay that requires a lot of time and effort. In addition, applicants must relate the topic to the essay's main body paragraphs to make it easy to read.
You can also add relevant facts, evidence, and examples to support your thoughts. It will make your essay sound credible.
Example:
I am confident that my background and experience make me an ideal fit for your engineering program. During my high school career, I have taken up many challenging courses to further develop my skills. Through these classes, I have gained a firm understanding of engineering principles such as thermodynamics and electrical circuits. Moreover, I have also had the chance to participate in a number of extracurricular activities, such as robotics and technical competitions. These experiences have further reinforced my interest in engineering and sharpened my ability to find creative solutions to complex problems.

College Application Essay Conclusion
The essay conclusion serves as your last chance to prove yourself as the most deserving candidate among others to get admission.
Have a look at the below document to understand the essay writing format properly.
2. Font Size/Style, Margins, and Line Spacing
When writing a college application essay, avoid using fancy fonts. Instead, begin your application by choosing a 12pt font in Times New Roman, Arial, or Calibri. It is usually the default font size and style for college essays.
Similarly, a margin around the page is another crucial element that you must consider. For this, use a one-inch margin on the four sides of each page.
On the other hand, the paragraphs should be typed in 1.5 or double line spacing. Always intend the first line of each paragraph with a tab. Lastly, use left alignment to justify your college application.
In short, here are the basics of page formatting:

| | |
| --- | --- |
| Font Size | 12-points |
| Font Style | Times New Roman, Calibri, or Arial |
| Margins | One-inch on all sides |
| Line Spacing | Double-Spacing |
| Alignment | Left-Aligned |
3. Title Page
The title pages of college essays vary according to the writing styles. However, most institutions follow and accept the general guideline in the application process.
Here is the general title format you can follow in your college essays.

The title of the essay appears in the first line. It is center-aligned.
After some space, the header's first line should include your name.
The next line should contain the name of your course instructor or supervisor.
The third line should indicate the course.
Write the submission date in the last line.
Here is an example that shows the essay title page format:

Title of Essay
Eric Bassett
Dr. Patrick Greene
Biology 1125
8 April 2017

4. College Application Essay Title
The title of your college essay must be engaging and clear. It should give an idea of what your essay is about.

Remember, the college essay would not be complete without a good heading. Refer to the below examples to get a comprehensive idea of the concept.
1. "The Value of a Good Education"
2. "How Community Service Strengthens Character"
3. "The Impact of Technology on Our Lives"
4. "Overcoming Adversity: How I Succeeded Despite the Odds"
5. "Why We Need to Encourage Environmental Protection"

5. Citation Style
The citation styles for admission essays are specific. The most commonly used and instructed styles include MLA, APA, Chicago, or Harvard. Make sure that you follow them correctly to present a properly cited paper.
Here, we have mentioned a complete college essay template for you.
Check out this informative video to learn more about perfecting your college essays!

College Application Essay Format Examples
Here are some common app college essay format examples for you to get a better idea.
In case you need some more samples, check out our college application essay examples.
As a child, I was fascinated by the human body and how it functions. I remember spending hours flipping through anatomy books, amazed by the intricate details of the human brain and heart. As I grew older, my interest in medicine only grew, fueled by my desire to make a positive impact on people's lives.
Throughout high school, I pursued every opportunity to learn more about the medical field. I volunteered at a local hospital, shadowed doctors, and took advanced science courses. Through these experiences, I gained a deeper understanding of the challenges and rewards of working in healthcare.
One experience, in particular, stands out. While volunteering in the emergency department, I witnessed a patient come in with a severe allergic reaction. The team of doctors and nurses worked quickly to stabilize the patient, and I was struck by their teamwork and dedication. This experience solidified my desire to become a doctor and work in emergency medicine.
I believe that a career in medicine will not only allow me to use my strengths in science and problem-solving but also to make a positive impact on people's lives. I am confident that I have the qualities and drive necessary to succeed in medical school and beyond.
In addition to my academic achievements, I have developed excellent communication and interpersonal skills through my involvement in extracurricular activities. I have been a member of my school's debate team for four years, which has helped me to develop my public speaking and critical thinking skills.
I am excited about the opportunity to pursue my passion for medicine at [Name of College]. I am confident that this program will challenge and inspire me to become the best doctor that I can be. Thank you for considering my application.

From a young age, I have been drawn to technology and its seemingly endless possibilities. My first experience with programming came in middle school when I began tinkering with HTML and CSS to create my own websites. As I delved deeper into the world of computer science, I became captivated by the potential for innovation and problem-solving that it offered.
In high school, I took every computer science course available and sought out extracurricular opportunities to further my knowledge. I competed in coding competitions, developed my own software projects, and volunteered to teach coding classes to younger students. These experiences solidified my passion for computer science and my desire to pursue it as a career.
I am excited to apply to [Name of College]'s computer science program, as I believe it offers the perfect combination of rigorous academic coursework and hands-on experience. I am particularly interested in the program's emphasis on collaboration and innovation, which I believe will help me develop the skills necessary to succeed in the fast-paced and ever-changing field of technology.
Beyond my academic achievements, I possess strong analytical, problem-solving, and communication skills that will enable me to excel in a computer science program. Through my involvement in my school's robotics team, I have learned to work collaboratively and think creatively to solve complex problems. I am confident that these skills will translate well to the world of computer science.
As I look to the future, I am excited by the prospect of using technology to create solutions to some of the world's most pressing problems. I believe that [Name of College]'s computer science program will provide me with the tools and knowledge necessary to make a meaningful impact in this field.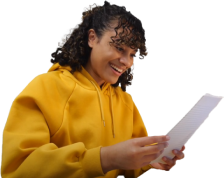 Tough Essay Due? Hire Tough Writers!
Expert Tips for Formatting and Writing a College Application Essay

Writing a compelling college application essay requires careful planning and attention to detail. Here are some expert tips to help you get started:
Use short and simple sentences to convey your ideas effectively. This will help to make your essay easy to read and understand.
Write your essay in an active voice.It will make your writing more engaging and effective in conveying your thoughts and ideas.
Before you start writing, make sure you understand the assigned essay prompt. This will help you stay focused and on topic.
Choose a great and interesting essay title that captures the main idea of your work in a few well-chosen words. This will help to keep your essay focused and on topic.
Develop a Clear Structure
Create an outline before you start writing to help you organize your thoughts and ideas. This will help you to develop a clear and concise structure for your essay.
Pay Attention to the Conclusion
The conclusion is an important part of your essay. Make sure to summarize the main points and ideas you have covered in your essay.
Double-check the word count specified by the admission committee before submitting your essay. The standard length varies from 250 to 650 words.

Following these tips will help you write a well-organized and effective college application essay that highlights your strengths and qualifications.
To sum up,
There is no doubt that the content of your essay is of high importance. However, the format is also something you should address carefully.
So make sure to do your best to get the right your college essay format right. It is because the admission officers will not even read your essay if it has an incorrect format.
Still, sometimes students don't have enough time to format their essay properly. If you are one of them, don't worry. You can hire essay experts at MyPerfectWords.com to complete the task for you.

It is the best college admission essay writing service that guarantees to provide essay help at affordable rates. Similarly, our college admission essay writer have the right education, knowledge, and experience to craft and format application essays.

To get essay writing help, all you have to do is to contact us and specify your requirements. Then, our essay writer will make sure to deliver your college essays according to the specified format.
Place your order now to get a convincing college application within the given deadline from the top essay writing service.