Any idea how to write a statement of purpose for graduate school?
When writing a graduate school statement of purpose, you need to focus on certain aspects of your life.
Keep in mind that graduate study requires focus and determination to pursue a degree. That's why admission committee members read your statement very carefully to see whether you are the right fit for their graduate program.
This article will discuss the key elements for writing a statement to get you to your dream school. Refer to these guidelines and the statement of purpose sample to learn how to write a perfect graduate school statement.
What is a Statement of Purpose?
A statement of purpose, also known as a college application essay, is an important piece of writing for a graduate school application. It tells the admission committee members who you are and what are your academic and professional interests. It also discusses how you are going to add value to the program you are applying to.
The main purpose of writing this statement is to tell the admission committee members that you have a solid background, relevant experience, and the potential to succeed in the selected graduate program.
It must convince the committee members. You can also visit the appropriate school website to understand what specific information you should include in your statement.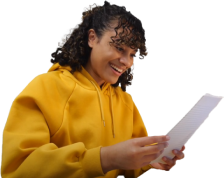 Tough Essay Due? Hire Tough Writers!
Personal Statement vs. Statement of Purpose
Below you can find the main differences between a personal statement and a statement of purpose.
| Personal Statement | Statement of Purpose |
| --- | --- |
| It is about who you are | It is about what you want to do |
| The motivation for applying, your research, interests, experiences, challenges, and accomplishments | Academic and professional background, skills, interests, and why the program is a good fit for you |
| Less formal | Formal |
A statement of purpose also differs from a scholarship essay where you write ane ssay to get some financial aid for attending college. On the other hand, a statement of purpose tells why you want to get into a specific college.
Format and Tone of Statement of Purpose
The statement of purpose format is quite similar to other pieces of academic writing. Here we have discussed the format in detail.
Times New Roman 12pt is the standard font size to use
Add one-inch margin on all sides of the paper
Single spacing is required
Include full name and proposed program at the start of the page
Languages used in the statement should be focused and positive throughout
How Long Should a Statement of Purpose Be?
The statement of purpose should be one page long. You can increase the length to one and a half pages, but it should not be longer than that.
The reason for the short length statement of the person is that admission committee members read dozens of applications in a day. Therefore, they already have your transcripts, test scores, and letter of recommendation.
So you need to make sure your application is concise and clear. For example, writing a statement of purpose longer than 1.5 pages will show that you lack clarity and focus.
How to Write a Statement of Purpose?
The following are the steps you need to follow to write a statement of purpose if you are applying to grad school.
1. Introduce Yourself, Motivations, and Interests
Start by introducing yourself and tell the admissions officers what you are interested in. Then, write about your motivations and interests clearly and concisely.
All the information in the introduction needs should relate to some specific aspects of the program.
2. Summarize Your Academic Career
Here, you need to provide information on the thesis project you have completed and any other things beyond your regular academic curriculum. In addition, provide work experience (if any) related to the area of the field that you have selected.
3. Show You are the Best Fit for the Program
Review the background information and career goals mentioned in the first paragraph. You should refer to this information when writing about your experience. Provide your understanding of the specific program and show why you are the best fit.
4. Describe Other Experiences that Helped You in Choosing a Specific Area
The fourth paragraph needs to provide information on other experiences that helped you prepare for graduate studies. Again, remember you should not provide long narratives; all the information should be brief and clear.
5. Elaborate on Future Interests
In the closing paragraph, you should describe your long-term goals briefly. Be very clear and to the point when composing this paragraph.
Statement of Purpose Examples
The most difficult part of writing any piece is getting started. The best approach is to create an outline first if you don't know how to start a statement of purpose.
Still not sure what are the crucial aspects of this statement? You can look at the following statement of purpose sample and examples for better understanding.
Statement of Purpose for Scholarship Sample
Statement of Purpose University Admission
Statement of Purpose for Masters
Statement of Purpose for Ph.D.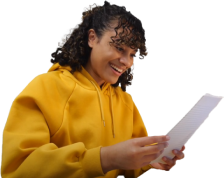 Paper Due? Why Suffer? That's our Job
Refer to these examples if you don't know how to write a strong statement. You can also find more helpful college application essay examples and a statement of purpose template online for getting started.
Tips for Writing a Great Statement of Purpose
Below you can find some expert tips for writing a great statement.
Make sure to provide academic background information in a detailed manner and show your experiences in the chosen area of the field.
Understand what the committee members are looking for in self-motivation, interests, and your potential as a graduate student.
Once you are done writing, read your statement many times to ensure it is free from language mistakes.
Show clearly and concisely that you are the best fit for the program applying to.
Follow all the academic statements of purpose instructions defined by the program you are applying to.
Remember that this is not a personal essay but an academically focused essay where you need to focus your essay on your academic background and future goals.
Hopefully, the above guidelines, samples, and tips will help you understand a statement of purpose and write a perfect one.
If you are still not sure, professional writing services at MyPerfectWords.com can provide you with the necessary help.
We know that personal statement writing is not an easy task. That's why it is better to get help from a professional essay writer service and let an expert writer do the writing for you.
Our college application essay writing service provides you with 100% original essays with free revisions!
Place your order now and get a high-quality and strong statement of purpose from our college admission essay writer in no time.