A bio is a great detailed or short description of a person's professional or personal life. It includes information about your education, works, achievements, relationships, etc. A bio, generally, describes a person's years of experience related to his life events.
This type of writing is more than just a curriculum vitae. It shares different aspects of life and skills of a person by analyzing their personality.
Writing a bio is not a daunting task if you are aware of the basics. This guide is compiled to share the purpose and correct procedure of writing a personal and professional bio. If you are wondering how to write a bio, continue reading this blog.
How to Write a Bio About Yourself?
Writing a bio about yourself means that you are drafting a personal bio. A personal biography is a summary of your professional accomplishments and education that highlights your personality.
Personal bios are required when you are looking for jobs and need to explain why you are the best candidate. Writing such a personal bio is not arduous if you know the basics and where to start.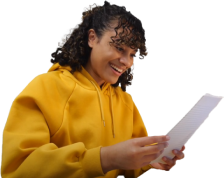 Paper Due? Why Suffer? That's our Job
The following are the steps to write an impressive personal biography:
1. Introduce Yourself
The first step in writing a personal bio is to provide an introduction about yourself. Also, beginning with a catchy hook is a great way to make the introduction compelling. After this, include your passions and values.
You should also provide an analysis of yourself by keeping in view the following aspects:
Skills
Attributes
Personal values
Professional values
Career paths
2. Keep it Short
Keeping the bio concise is the basic thing to keep in mind. Depending on the purpose and focus, decide on a word limit and follow it. Keep the word count of your bio between 300 to 500 as the shorter bios capture the reader's attention better.
Also, add the following information in your bio concisely.
Purpose
Accomplishments
Personal values
Personal background
Education and credentials
Write effective and short bios to ensure that the readers understand your point in the minimum content.
3. Use a Third Person Perspective
When writing your bio, use a third-person perspective. Include your full name and an image of how the other person should see you and your personality. However, when using a third person's voice, avoid repeating your name frequently to give a natural touch.
4. Write with Strategy
Even after sharing details about your skills and accomplishments, avoid providing a monotonous list. Instead, use a strategy to write your bio.
A trick is to identify the targeted audience and knowing what exactly to provide in the details. Adapt a unique strategy to put yourself on paper. Look for ways to creatively discuss a personal understanding of your interests, field, and passion.
5. Include the Contact Information
The point of writing your Twitter bio is to connect you with other people. For this purpose, provide your contact information in your bio. Share your email address, personal website, professional website, and a link to other social media platforms.
Below-given is an example of a personal bio to give you a better idea.
How to Write a Professional Bio?
A professional bio is more about what you've done than who you are. It should highlight the accomplishments and skills of a person, not their personality traits or personal lifestyle choices.
To write an impactful professional bio, a person should take the following steps:
1. Know your Audience
The first and foremost step is to identify the audience or the people you are writing your professional bio for. Knowing the audience will help you present the purpose more accurately. In addition, it is the audience that helps the writer decide whether the bio should be formal or informal.
2. Choose a Third Person Perspective
Like a personal bio, addressing a professional bio in the third person's perspective is recommended. This will make the bio seem objective and free from the personal tone. Moreover, it will help you direct the readers as they will perceive how you describe the details.
3. Present your First and Last Name
When writing a professional bio, assume that your audience knows nothing about you. Your name, including the first and last, should be the first thing your audience should be seeing. Present your official name to make the readers identify you.
4. State your Current Post or Position
Your professional bio should present your current position and job title. Whether you are an employee or a CEO of a company or brand, mention it in the bio. Provide your job description along with the responsibilities you have standing in that position.
Moreover, give the name of the company you are working for and your personal brand statement.
5. Share Professional Accomplishments
This bio is confined to your professional background, so add at least one significant professional accomplishment. Talk about the rewards related to the field and how a particular achievement has influenced the other people around you.
6. Include the Basic Personal Details
Sharing basic personal details is mandatory in your professional bio. Information such as your interests, hobbies, and relevant personal attributes is important as it helps you connect with the audience personally.
Here is a perfect example of a professional bio.
Finding a job is one thing, and getting it is another. It requires a document in the form of a professional bio. The document is written for potential employers or potential clients. It is to convince them why you are the best fit for the company.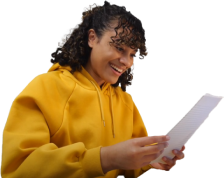 Tough Essay Due? Hire Tough Writers!
How to Write a Bio about Someone Else?
Biographies can be written for someone else as well. In such documents, you will provide all the details, personal and professional, of the other person in an unbiased manner.
Keep in mind, writing a bio about someone is different from writing your own. Here is a step-by-step guide to writing a bio about someone else.
1. Start with the Basics
When you are writing an official bio for someone, it is essential that you first get the person's consent. Once you have the consent, you can begin the writing process.
Gather the basic information about the person such as;
Full name
Place of birth
Where the person live or have lived
Family
Education
Employment
Accomplishments and awards
Personal goals
Age
Hobbies and passions
Related organizations
Once you have collected data, analyze the important information that should be shared. However, unimportant details should be kept a secret.
2. Decide on the Type of Bio
Decide which type of bio should be written. Generally, there are the following types:
Bio Blurb - The bio is simply written in a paragraph or two.
Comprehensive Bio - It is a detailed bio usually written for a famous or well known person.
Typical Bio - It is a basic summary that precisely presents the important information.
Depending on your preference, choose the type of bio and start writing. When writing a comprehensive bio, a deep study on the person is done to know every single detail of his life.
3. Present the Personality and Vision
After choosing the type, present the person's personality by highlighting the known and the unknown facts. Identify how the person wants his audience to look at him and his personality and choose that aspect.
4. Be Readable and Understandable
The point of writing a bio is to make people read it. So, ensure clarity of the content to make it readable and understandable for the audience.
The gathered information can not be provided without arranging it in a proper sequence. Analyze the data and present it to make it easy to understand for the readers.
5. Do Not Rely on the Existing Information
The information should be collected from a credible source. So avoid relying on the internet and other sources that you believe are not authentic. It is always preferred to double-check the information to make your bio error-free.
6. Work Within the Limit
The word limit plays a great role in making the content readable, so stick to it. If not writing a comprehensive bio, keep it short and simple. Use small sentences to avoid making the bio monotonous.
To understand the concept better, below is an example of a bio written about someone else.
How to Write a Short Bio in Easy Steps?
Writing a short bio can be challenging, but it's worth the time and effort. Here are some steps you should follow to write a great bio in no time:
1. Choose a Voice
When you start writing the bio, decide what kind of voice you want to use. To write in the first person, use "I" and "me". However, when you are writing in the third person, use your name.
2. State The Job Title
Write the name and your current job title in the first sentence of your bio. For example: "Bob is the digital marketing supervisor for Mashion.
However, if you are finding a job, then write the college major or your recent title. For example: My name is David, and I am a college graduate with a bachelor's degree in social sciences.
3. State The Personal And Professional Mission Statement
In this step, mention your personal and professional principles. Then, you should answer the question, "Why do what you do?"
This quest can take on many different forms, and you must choose the one which means most to you, from helping others by serving their needs or making the world better through your professional skills.
4. Highlight Your Professional Accomplishments
Mention all the accomplishments, but it is important to highlight the best ones. Then, focus on those awards and recognitions that relate to your skills.
Tips for Writing a Good Bio
Your biography should be appealing and interesting to ensure maximum readership. Knowing the correct writing process is one thing and writing an exciting piece of bio is another.
Writing a biography can be challenging for some people. But, especially if you are writing it for the first time, it can be a great challenge. Thus, follow these tips to make your bios effective and compelling:
Avoid writing a chronological history of the person. No matter if you are writing a professional or personal bio, do not make the content dull by sharing irrelevant history.
Keep the tone and content unique. Including information that can be applied to other people will not make the bio exclusive and intriguing.
The content should be interesting for the readers. Identify the audience, analyze what they are looking for in your bio, and write the content accordingly.
Keep the wordings clear and the sentences short. Explicitly present your ideas without providing vague descriptions. For example, if you are writing a professional bio to apply for a job, state your experience and professional skills.
If you are a graduate or postgraduate student, you will have to write a lot of bios in your future. For a well-written bio, ensure that your professional and personal background is presented in the best possible way.
If writing is not your thing and you have to write a bio, you can get help from an expert. MyPerfectWords.com is a professional essay writer service that provides assistance in all your assignments.
Be it a simple essay, a complicated research paper, or any sort of biography; we have got your back.
Simply place an order to get our professional online writing service.