A movie review is one of the most often writing assignments that students face. Many lack a grasp of writing it, and some have no clue what they should submit to meet teacher standards.
The best way to write a movie review is by understanding the purpose. Your assignment will be more successful if you know what it takes and know the main requirements for an effective piece.
There are a lot of movie reviews available on different websites on the internet. However, some are written by amateurs only for fun, and others are written professionally.
If you want to learn how to write a movie review, keep on reading. It is a great chance for you to learn about the world of film criticism.
In this blog, you will find a step by step guide and examples for becoming a perfect movie critique.
What is a Movie Review?
A movie review is an analysis of a film or a documentary. Writing a great movie review involves detailed research, analysis, and reporting the writer's view in a logical and structured way.
It is a well-balanced synthesis of personal opinion and a critical analysis of themes and plots. Writing film reviews is considered creative writing. It involves both analytical and innovative approaches to come up with the best movie review.
The combination of an analytical approach and creative skills will help you craft an exhaustive and convincing piece of writing.
The objective of a good reviewer is to help people find helpful reviews about the movies they like. But, like professional reviewers, do not hesitate to tell the readers whether you think it was a good movie or not.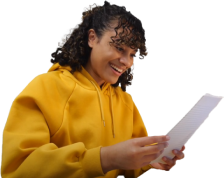 Paper Due? Why Suffer? That's our Job
Important Elements of a Movie Review
All movie reviews have in common the elements that they contain regardless of the genre. The elements of a movie review provide an overall structure on which the whole analysis is based. A good review must comprise the following components:
Title

It is not just enough to include the title in the headlines. Make sure to include it in the text as well as in the introduction paragraph.

Plot

Another important element that you need to pay attention to is the storyline, also known as the plot. Mention it clearly and concisely for the readers who have not watched the movie yet.

Filmmaker

Don't forget to dedicate a paragraph to the filmmaker and discuss their personality. Provide some background information and the controversial and political side (if relevant).

Actors

The cast is one of the important factors that a movie has. Your review should properly indicate if they have acted well or not. Do not forget to mention if they have the required skills to portray the character they played.

Creative Elements

Creative elements play an important role in the overall success or failure of the film. Your movie review must state these elements and how they contributed to the storyline. These elements include costumes, lighting, sound, camera work, etc.
How to Write a Movie Review?
Writing a movie review may seem like an impossible task, but it can be learned easily. You should know the format of your review.
Therefore, you can present both interesting opinions and amazing writing skills clearly without any confusion.
1. Watch the Movie
Watch the movie and take notes of the important points. Be focused and conscious throughout the film to record characters, events, minor and major details.
2. Research the Movie
To watch the film only once is not enough; you might have to watch the movie at least 3 times. It is important to give quality time to research as well. Reviews require great research to find some important information. Such as who the filmmaker is, characters, and events that lead to the movie, plot summary, location, symbolism, etc.
3. Create the Movie Review Outline
The best way to organize your review logically is to make an outline first. The outline is a framework on which your whole review is going to stand. It is important to have an outline before you start writing your review. An outline will look something like this:
Introduction

Title of the movie
Date released
Some Background information
Characters
Director

Summary of the movie
Analysis of plot and creative elements
Opinions (include examples to back up your arguments)

Characters
Camera techniques
Colors
Mood
Symbols
Dialogues
Tone
Costumes
Special effects

Conclusion
4. Analyze the Movie
Once you understand the movie, start the analysis. Critically evaluate the movie from the start to the end and note each and every detail. Once you analyze and understand each point, you are all set to write a good movie review.
5. Include Examples
A great movie review needs to include relevant examples to support your claims and observations. Mention everything that you have observed while watching the movie. It is not enough to make general statements; you must support your arguments and claims with strong evidence.
6. Write Your Review
After gathering all the required information and examples, you can start the writing process by following the above outline. Make the introduction paragraph exciting and engaging. Reveal as much information as possible in the body paragraphs. To conclude, connect the information back to the introduction in a creative way.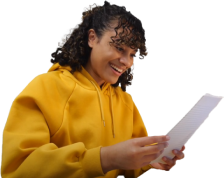 Tough Essay Due? Hire Tough Writers!
7. Edit Your Final Draft
Once you are done writing the first draft, make changes and re-write the final version. In the editing phase, be sure to check for important information that might have been left out. Also, check grammar or spelling mistakes before submitting it.
The steps explained above could be used for writing a movie review for middle school, high school, and college. Moreover, you can get help from the following guide.
Download this sample guide and save it with you to use later.
Movie Review Example
To gain more understanding of a movie review and how a professional review looks like, check out this sample.
Movie Review Topics
Here are some movie review topics that can help put your work in the right direction from the very start.
Write a review on Titanic Movie
A critical review of Jurassic Park Movie
Write A Review on 2001: A Space Odyssey
One Cut of the Dead - Review
A review of Burning Cane Movie
An honest review of The Ron Clark Story Movie
The Miracle Worker Movie Review
A Comparison between The Boy In the Striped Pajamas Book and Movie
Discuss symbolism in Alice's Adventures in Wonderland Movie
Write a Review about the Film Adaptation of Pride and Prejudice
If you are facing any issue in writing a movie review, there is one smart solution that you can consider: the best writing services at MyPerfectWords.com!
Our team of essay experts, reasonable prices, and expedient work all contribute to helping students achieve their academic goals. Our best essay writers have got you covered if you need assistance in writing a review or any other academic writing. Or even in the editing and proofreading process.
Our movie essay and review services are all set to help you with your assignments. And guarantee a high-quality review written by professionals. With us, you will submit a movie review worthy of an A grade.